Accelerated Reader (AR)
This is a child page of Parents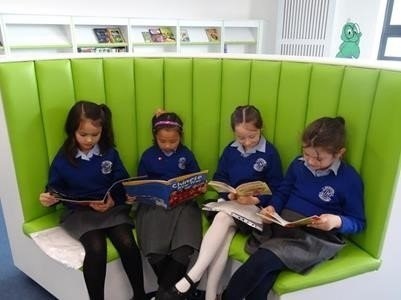 Dear Parents,
As part of our continuing work to develop reading fluency and comprehension levels in the school we have launched a new initiative in all classes from first to sixth. This initiative, called Accelerated Reader (AR), has been in schools in the USA and in the UK for a long number of years and research has shown that it plays a huge role in increasing children's literacy levels and also their enjoyment of reading.
Part of the programme involves using an initial assessment to discover the zone in which the children can read to give them the most benefit from their reading. This zone or range is called their book level. We then encourage the children to read books at this level as much as possible and take quizzes on them (within 24/48 hours of reading) to discover how much of what they have read they understand. Each book is worth a number of points which the children get when they pass the quiz. Each child will have a set number of points as a target to reach by the end of the term.
We are by no means saying that the children can ONLY read books that have quizzes in AR but we are encouraging them to do so as much as possible while we are beginning this venture. Quizzes can only be taken during the school year.
The website www.arbookfind.co.uk is a very good place to look up books that will be the correct level for your child. It gives the book level and points awarded for each book and categorises books into different areas of interest which can be particularly helpful.
In school we are giving the children 15 minutes twice a day for three days of the week and a half hour on the other two days in the Library of silent reading. During their silent reading time they can take quizzes on books and can change the book they have read while in the Library. This is why each child should have two books out at any one time.
The cost of the programme has been funded in the first year by the Board of Management and will be added to the Obligatory Extras. We are also hoping to stock the new library on an ongoing basis both to support this programme and literacy in general in the school.
Yours sincerely,
Elaine Molyneaux
Co-ordinator